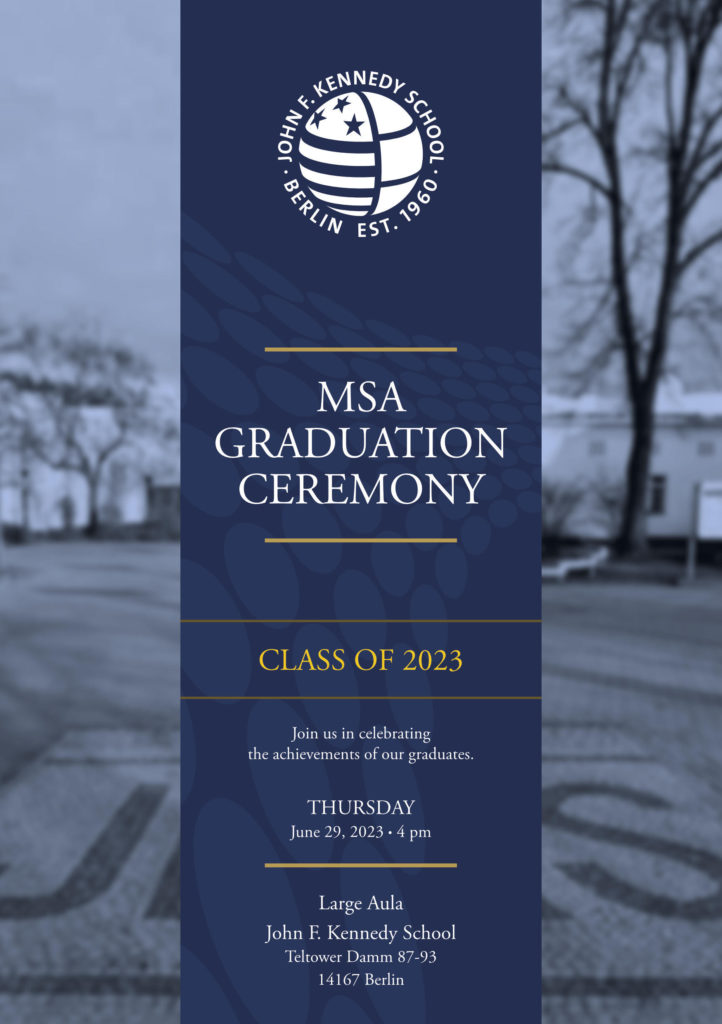 Liebe Schülerinnen und Schüler,
sehr geehrte Eltern der 10. Klassen, 
liebe Kolleginnen und Kollegen, 
hiermit möchte ich im Namen der Schulleitung der JFKS High School zur feierlichen Abschlussveranstaltung für die Beendigung der Mittelstufe mit dem Mittleren Schulabschluss einladen. 
Im Anschluss an die Veranstaltung wird es einen Sektempfang mit kleinen Köstlichkeiten im Wirtschaftshof der John-F.-Kennedy-Schule geben. 
Der Dresscode ist auf Wunsch der Schülerinnen und Schüler smart casual.
Wir freuen uns auf Ihr zahlreiches Erscheinen, um den ersten offiziellen Abschluss der Schülerinnen und Schüler zu feiern. 
Herzliche Grüße im Namen der Schulleitung
Fr. Simons
*********************************
Dear 10th Grade Students and Parents, Teachers, and Staff,
On behalf of the JFKS High School Administration, I would like to invite you to join us as we celebrate the completion of the Mittelstufe at the MSA Graduation.
Following the ceremony, we will host a reception with light refreshments in the courtyard behind the Aula.
At the request of the students, the dress code is "smart casual". 
We look forward to seeing you there.
Best regards on behalf of the school administration
Fr. Simons