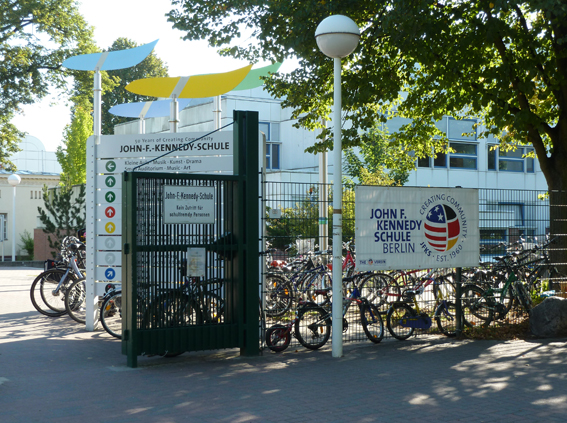 1. Does JFKS charge tuition?
No, the John F. Kennedy School is a public school and therefore does not charge tuition.
2. Can students living in Brandenburg apply to JFKS?
JFKS may accept and process applications for grades EC-12 for children residing in Brandenburg if the applicant can submit evidence of the guest student (Gastschüler) status for JFKS specifically, and if free slots are available. Proof must be submitted by March 1 for applications to the Entrance Class and by March 31 for applications for grades 1-12 and may be no older than 6 months at the time of submission to JFKS.
Parents of children residing in the State of Brandenburg should initiate the process of obtaining the guest student status by contacting their relevant State School Authority (for example the Staatliche Schulamt Brandenburg a.d.H. for the cities of Potsdam and Brandenburg, and the Landkreise Potsdam Mittelmark and Teltow-Fläming). Please note that JFKS is not able to counsel or assist you in obtaining this status, and has no influence on the processing time of your application.
Please refer to the Guest Student Agreement (Gastschülerabkommen) between the Land Berlin and the Land Brandenburg (link here) for more information.
3. When is the deadline for students' applications?
For perspective Entrance Class students the application period is from October 1 to January 31 for the following school year. For students applying to grades 1 through 12, the application period is from September 1 to March 31 for the following school year. Please see: Application periods
4. When will the admission decisions for the next school year be made, when will we receive confirmation about our child being admitted or not?
The Entrance Class lottery takes place in April, afterwards official admissions letters will be sent out to Entrance Class parents. Admissions letters for High School students (grades 7-12) will be sent out by the end of May, for the Elementary School (grades 1-6) by end of June. Please note that late admission is possible due to withdrawals or no-shows. Your application is valid and will be considered for late admission until September 30.
5. Is there a probation period for new students at JFKS?
The probation period for students in the ES is one year, for students in the HS one semester.
6. Does JFKS offer an Open House to visit the school?
There is no Open House but it is possible to schedule individual tours of the school. Please contact Annika von Maydell at welcome@jfksberlin.org to make an appointment.
7. Does JFKS have boarding facilities?
The John F. Kennedy School does not have boarding facilities.
8. Which diplomas do students at JFKS work towards?
Students at the John F. Kennedy School work towards the German Abitur, the American High School Diploma and Advanced Placement Program, or towards both. JFKS does not offer the IB program.
9. Do students applying to JFKS have to have prior knowledge of English and / or German?
Students applying to Grades 1 through 12 have to be fluent in English, but not in German. Please see: ES Admission and HS Admission
10. Does JFKS offer accommodations for Special Needs students?
Yes, JFKS does offer accommodations for Special Needs students. Please see: ES Student Support Services and HS Student Support Services
This post is also available in: Deutsch