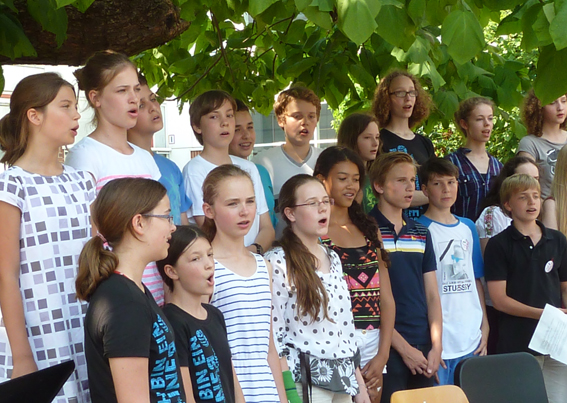 The JFKS Choirs and other Vocal Ensembles provide an opportunity for students to contribute individually to a group success greater than one might achieve alone. This process demands the pursuit of academic excellence in the realm of choral music, and multilingual facility and understanding. The process fosters respect and understanding of one's peers and the individual contribution each is capable of making to the group success. The outreach activities practiced by our ensembles reinforce the understanding of the value of musical expression for all people regardless of age or physical condition.
Students are encouraged to participate in choir starting in 3rd Grade and have the opportunity to continue with choir and other vocal ensembles until they graduate.
The Parent/Faculty/Alumni Choir is open to all adult members of the community and performs together with the student choirs on a regular basis.
3rd/4th Grade Choir
This choir is open to all interested 3rd and 4th grade students without audition. The goal is to introduce students to singing in a choir, rehearsal discipline and performing successfully. Repertoire includes German and American music. The weekly rehearsals take place after school, for 3rd grade on Wednesdays, 14.15-15.00 (starting early September), and for 4th grade on Thursdays, 14.15-15.00 (starting early September). The Choir participates in two Elementary School Music Evenings each school year.
Director: Ms. Martin ()
5th/6th Grade Choir
The 5th / 6th Grade Choir is an elective for 5th graders and a graded class in 6th grade, based on the students' work during rehearsals, their readiness to perform our choral repertoire, and their participation in the required after school performances. Any 5th or 6th grade student who wishes to participate and who continually demonstrates satisfactory effort and conduct in rehearsals may be a choir member. No audition is required. Every second year the entire choir presents a stage musical. All choir members are part of the chorus, stage roles are chosen by audition.
When? 5th grade: Friday, 8th period; 6th grade: Wednesday, 4th period
Director: Ms. Cook ()
5th/6th Grade Small Ensemble
Any 5th / 6th Grade Choir member may audition for the 5th / 6th Grade Small Ensemble, a group which rehearses one additional time per week and which performs additional, more challenging music than that of the choir. Small Ensemble members must display excellent musicianship, attitude and attendance in regular choir.
When? Monday, 9th period
Director: Ms. Cook ()
Kammerchor (Chamber Choir)
The JFKS Kammerchor is open for students in grades 3 to 6 who have successfully auditioned for the group. The Kammerchor rehearses Fridays during lunch break (5th period), additional rehearsals might be called before a concert. It is a small ensemble which rehearses and performs more challenging works with a focus on polyphonic German repertoire. The Kammerchor is sometimes asked to participate in additional performances like the yearly Domkonzert.
When? Fridays, 5th period (lunch)
Director: Fr. Amann ()
This post is also available in: Deutsch