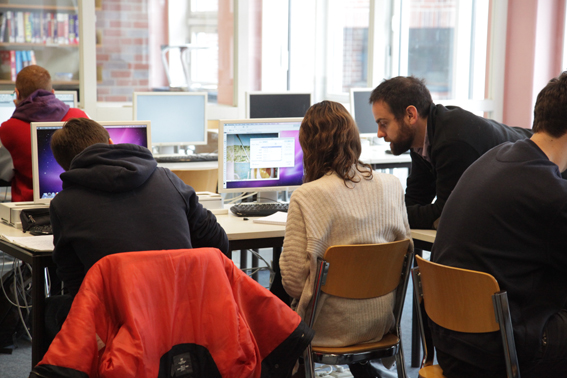 Educational Technology at The John F. Kennedy School Berlin
Technology at the John F. Kennedy School enhances student learning, improve the efficiency and productivity of staff members, and facilitate communication among students, staff, and parents.
Elementary School
We bring technology into the Elementary school classroom through the use of classroom computers and Promethean interactive boards. Instead of dedicated 'computer' classes we integrate the use of technology into all of our core subjects. Students are encouraged to research, design, create and present concepts and ideas using technology as a tool or as a delivery method.
We have two computer labs to support full classroom instruction.
We have a media center in our library to support student research.
We offer keyboarding instruction in both German and English.
We currently use web based tools for math support, reading intervention, accelerated learning and instructional support.
Every teacher has access to a full suite of technology tools through our Google Apps for Education portal.
We offer partial wireless access in the Elementary school.
High School
We believe
All students should develop fluency with technology through ample, varied and guided experiences.
Technology should be addressed in all disciplines, in discipline-specific ways, so that students understand the differing roles that media and technology play in each discipline.
All students and staff should have immediate access to technology whenever necessary.
Learning environments must be equipped with technology tools to support all students.
Technology is purposefully integrated to support clear learning goals.
We are undergoing an infrastructure update. We will bring technology into the classroom through Epson interactive projectors and Promethean interactive boards.
We have three computer labs to support instruction.
Wireless access
We offer courses that fulfill all N.E.T.S standards as well as P.I.S.A recommended guidelines.
Computer Applications
Multimedia Design and Film Making
Computer Information Systems Management
Informatik
AP Computer Science
Online Content Management system.
Cloud managed online environment for all students and teachers through our Google Apps for Education Portal.
This post is also available in: Deutsch