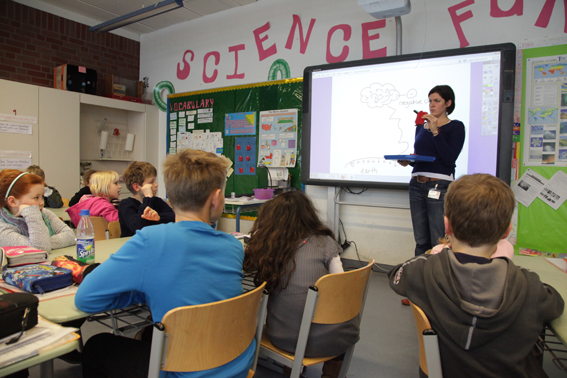 While the homeroom teachers are still responsible for teaching math, social studies and art, starting in third grade the students have different teachers for music, science and physical education all of which are taught in well-equipped special facilities. Swimming is an integral part of the program in third grade and is taught at a nearby pool once a week throughout the whole school year.
All students begin with formal partner tongue instruction in third grade. The program is designed to accommodate American children or children of other nationalities who have little or no knowledge of the German language. These lessons include oral work and formal reading and writing program (please see: The JFK Elementary Language Program).
Formal computer instruction begins in third grade as well including the "Ten Thumbs" typing program taught once a week during one of the mother tongue hours. Computer workstations are available in the library for students completing research projects for their classes.
In third grade traffic and safety instruction begins, in fourth grade the students take a written and practical bicycle test. All students attend the elementary school assemblies held on a regular basis.
After school activities offered for third and fourth Grade include the 3rd/4th Grade Choir and basketball.
The school day for third and fourth grade starts at 8:00 and lasts until 14:10.
Monday through Friday "Homework Help" hour supervised by a bilingual teacher is available during eighth period (14:15-15:00).
This post is also available in: Deutsch