The JFKS Music Department offers additional music activities for students in the elementary school with rehearsals taking place either before or after school, or once a week during the lunch break. Please check the respective activity for more details and staff contact information.
Recorder Ensemble
There are always at least two recorder groups for interested children in 3rd and 4th grade. The activity is for both, beginners and advanced recorder players. Besides traditional pieces the repertoire includes old peasant songs that were collected by Bela Bartok and Zoltan Kodaly. The children will also compose little pieces by themselves and enjoy playing them with their group. The rehearsals always take place once a week during lunch. The Ensembles participate in two concerts a year, in Winter and in Spring. Flutes are available for purchase.
Director: Not offered during school year 2022/23
Boomwhackers Ensemble
There is a lot of fun to be had using these colorful, tuned tubes to create music with a unique sound.  This group was created for students in grade 3 and 4 to practice and perform music together.  Students develop musicianship by learning about notes, dynamics, feeling an inner pulse and playing together.  Our repertoire ranges from classical to rock music and we sing along to the music we make.
Director: Not offered during school year 2022/23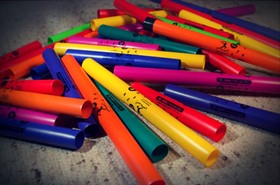 This post is also available in: Deutsch