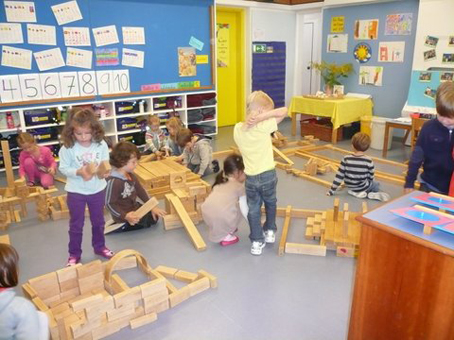 Most children are admitted to JFKS into the Entrance Class; this class starts one year before Grade 1. Entrance Class children turn five the calendar year they start Entrance Class.
Like all JFKS educational programs, the Entrance Class is designed to enhance learning and social development in a bilingual and bi-cultural environment. By assisting each child's integration into the school community and teaching appropriate social behavior in building respect for the rights and feelings of others, the Entrance Class serves as developmental bridge between the family and the broader world. Children learn to listen and wait their turn and gain confidence by expressing their ideas in front of their classmates.
Classroom celebrations such as Halloween, St. Martin's Day (Lantern Festival), Thanksgiving, St. Nikolaus Day, and Fasching (Carnival) acquaint the students with the customs and traditions of the partner nations. Other celebrations throughout the school year help students become aware of different cultures and belief systems. Singing in both languages as well as arts and crafts projects play an important role in the Entrance Class supporting the children's language and fine motor skills development.
The Entrance Class offers a preschool curriculum, which is designed to prepare the children for learning in school, writing and early math. Pre-literary Mother Tongue lessons are introduced to the children in the second half of the school year. At JFKS there are no single language classes; in every class there will be German- und English-speaking children. Instruction in the classrooms is held in both languages at once.
This post is also available in: Deutsch